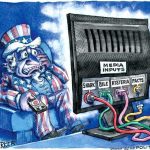 By Charles Hurt • Washington Times
The job of newspapers was once to "comfort the afflicted and afflict the comfortable." Today, that job seems to be to give voice to liars and shout down the truth.
You really cannot blame Democrat voters in America for fleeing in droves the fetid airwaves of MSNBC and CNN, which have suffered a collapse in ratings last week as viewers learned they have been steadily and spectacularly lied to for the past two years by the so-called "mainstream" media about the so-called Russian collusion "story."
Examples abound of pundits and reporters from once-respected newspapers and cable "news" outlets leveling outlandish charges about this twisted fantasy of collusion between President Trump and the Kremlin. Equally alarming are the endless examples of these same "news" outlets airing and publishing outright lies told by politicians hellbent on destroying Mr. Trump.
It is a sad fact in our broken world: politicians lie. The whole point of the so-called "Fourth Estate" — that unofficial, quasi-fourth branch of government — is to Continue reading →
---