Saudi Arabia & UAE Conference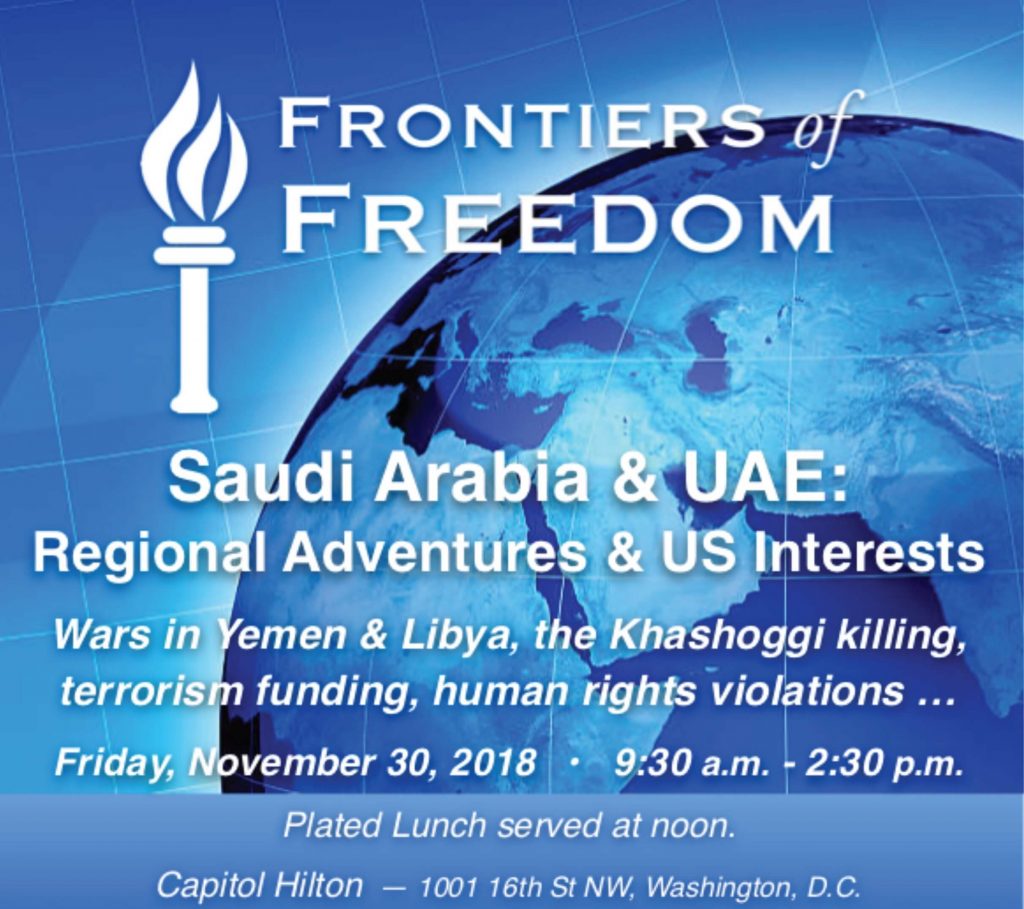 More Details:
Saudi Arabia & UAE:  Regional Adventures & US Interests
The Khashoggi Killing, Wars in Yemen & Libya,
Money Laundering & Terrorism Funding, Human Rights Violations …
Fairfax, Virginia — Frontiers of Freedom, a public policy foundation, is hosting a conference entitled, "Saudi Arabia & UAE:  Regional Adventures & US Interests" that will discuss the state of affairs in both Saudi Arabia and the United Arab Emirates. Both Saudi and the UAE are commonly referred to as US allies, but an honest and candid review of their actions reveals that while they may be nominal allies, they have a troubling history of regional adventures that harm both regional stability and US interests. It is well past time that American policy makers and media understand the nature of these complicated relationships.
The conference will be held on Friday, November 30, 2018 at the Capitol Hilton (1001 16th Street, NW, Washington, DC – on the corner of K St. & 16th St.) from 9:30 AM until 2:30 PM. Lunch will be served to attendees who have RSVP'd below and received confirmation of their RSVP.
George Landrith, the President & CEO of Frontiers of Freedom, said: "Given recent events, this conference is both timely and necessary. American political leaders as well as opinion leaders need to understand the complexities and nuisances of the US's relationship with Saudi and the UAE. For far too long, the United States has failed to factually and candidly hold the UAE and Saudi Arabia accountable for their activities. It is not enough to simply wave off the harm they do to American interests and regional stability by assuring ourselves that they are our allies. Reality demands we understand the facts and deal with them honestly. This conference is an important step in this direction."
---