Government shutdowns are petty, but they're rarely as detrimental as pundits and politicians fear.
By Peter Roff • US News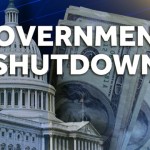 For various reasons it's become popular to threaten to shut down the federal government. Whether that goes back to the Reagan years when Democrats would run out the clock on the fiscal year to try and force spending increases the White House didn't want or the years in which the tea party Republicans decided the American people would stand with them in closing the government to stop Obama initiatives, there are people in government who believe hanging the "Closed" sign on the Washington Monument is a political winner.
It isn't. It makes everyone involved look petty and small. The American political process is by design deliberative. The founders designed a system that forced compromise between regions of the country, between politicians of dissimilar views and of competing interests at all levels of government. Pushing the government to close because there's no money to run it is akin to taking one's ball home from the playground because the other kids will not agree to play the game by the rules you want.
All that said, the government never really shuts down. The president is allowed far too much discretion to declare services essential, meaning all kinds of people get to stay on the job without pay, working away as usual processing government checks, funding grants, administering programs and doing all kinds of things that, while they might be the purpose for which people get up and go to work each day, would hardly be classified as "essential" in any kind of real emergency. Continue reading →
---