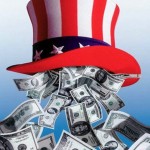 By Michael Barone • National Review
The Republicans have passed their tax bill, without a single Democratic vote, despite low to dismal poll ratings. It's reminiscent of the passage by Democrats, without a single Republican vote, of Obamacare in March 2010.
Democrats lost 63 seats and their House majority that fall. Republicans hope they won't follow suit. They argue, accurately, that their bill will lower taxes for almost all taxpayers and that it will stimulate economic growth, which already has risen above the growth in the Obama years.
The effects of Obamacare, in contrast, were harder to model, and some backers' claims — if you like your insurance, you can keep it — soon were revealed as glaringly untrue. We'll see whether the greater simplicity of the tax bill makes a difference in political fallout.
One thing in common between the two bills is that voters have seemed congenitally skeptical about the claims of the party in power. Obamacare continued to be unpopular until, presto, Donald Trump took office and Republicans threatened repeal.
---