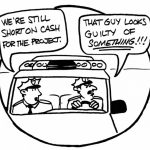 By Julian Adorney • The Federalist
Income mobility in the United States has stagnated, a fact that hurts the poor most of all. If President Trump wishes to keep his promises to help low-income Americans escape poverty, he should instruct his administration to jettison, rather than expand, non-criminal asset forfeiture.
Non-criminal asset forfeiture lets government agents seize Americans' assets (cash, but also cars and even houses) on the mere suspicion that they were involved in a crime. Asset forfeiture is intended to deprive criminals of their ill-gotten gains, but frequently enables police to take the property of Americans who remain innocent in the eyes of the law.
According to a Department of Justice report, they've seized $29 billion from 2007-2016 on the federal level. Twenty-three percent of this has been administrative asset forfeiture, meaning that the seizure was less than $500,000 and the victims were never convicted of—or often even charged with—a crime. Continue reading →
---