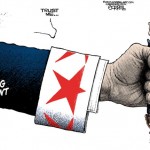 By Inez Feltscher Stepman • The Federalist
Most Americans are still under the illusion that when they elect a president, he takes control over the executive branch and proceeds to implement his agenda by working with Congress. Sadly, "School House Rock" is out of date.
An enormous amount of policymaking these days goes through the administrative state – the alphabet soup of agencies that have been proliferating like weeds since Franklin Delano Roosevelt's New Deal. The outsourcing of legislative and adjudicatory powers to agencies is bad enough, and cannot square with the separation of powers between legislation, judiciary, and executive that is delineated in the Constitution. To make matters worse, these agencies and the employees who staff them are also politically unaccountable to the elected representatives of the people, violating not just the wise guardrails of our Constitution, but also the very idea of self-government.
Today, it is nearly impossible to fire the 2.8 million federal bureaucrats who staff the executive agencies, from which they issue regulations and policy guidance that directly affect the lives of Americans every day. Continue reading →
---