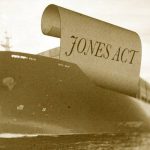 by Gabriella Hoffman • Maven
Here's more from my reporting trip to Puerto Rico.
I recently joined a group of center-right bloggers and journalists on a reporting trip to Puerto Rico examine the status of the Jones Act and how the law is aiding relief efforts there following the aftermath of Hurricane Maria.
President Trump was reluctant to waive the Jones Act following Hurricane Maria, but later did for ten days. Outlets like Reason Magazine said the waiver didn't go far enough. The topic has been in the news, so I wanted the opportunity to see it for myself despite media reports projecting doom and gloom.
During the course of the reporting trip, we heard from a series of speakers from the shipping industry to get their take on the law and the status of their industry. Continue reading →
---