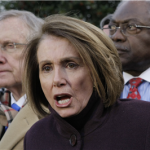 By Rich Logis • The Federalist
Remember the famous garden scene in "The Godfather," when Marlon Brando's character, Don Vito Corleone, warns his son, Michael, played by Al Pacino, that someone close to the family will arrange a meeting where Michael will be assassinated?
The real-life political equivalent of that landmark cinematic moment is playing out before our very eyes, with the Republican National Committee and congressional Republicans. On the omnibus, on the Second Amendment, on border safety—almost every issue—the GOP continues to betray the family. Who is the family? The American people, that's who.
In fairness, yes, Justice Neil Gorsuch's confirmation, the president's constitutionally bona fide federal judges, and tax reform were big wins in the last year. But we didn't elect the biggest GOP majority in the modern era to take baby steps, did we? We colored the map red (even though guaranteed red states no longer exist) to take giant leaps, especially after eight years of mostly impotent GOP opposition to President Obama. And let's be honest: 90 percent of the reason our map was red was because of President Trump. Continue reading →
---