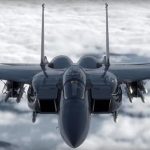 By Phil Kiver • Washington Times
As a former member of the military who served in multi-branch operations, I understand the need for diversity when equipping our service members. Our Air Force should not be one dimensional. The current fight over procurement of the Air Force fighter; the F-15X, is an easy decision, because having diversity in the air fleet provides flexibility that current conditions require. As I well understand, different missions require different strengths, capabilities and tools.
Some lawmakers are pushing the F-35 fighter jet over the F-15X because of the fear of budgetary constraints in the future. Defense News reported on February 27, 2019, "Lockheed Martin and U.S. Air Force officials may be downplaying the prospect of an upcoming budget battle surrounding the F-15X and the F-35 fighter jets, but F-35 supporters in Congress and around the Capital Beltway are mounting an offensive against Boeing's new F-15 variant."
The report indicates that "all signs point to the Air Force unveiling its plan to buy a new version of the F-15 in its fiscal 2020 budget proposal, tentatively scheduled for release in mid-March. Though numbers have fluctuated, a Feb. 19 report from Bloomberg says the service plans to purchase eight F-15X planes in FY20, with an expected total buy of about 80 jets." Right now the plan is for the Air Force to purchase both the F-35 and the F-15X. The F-15X is an upgrade to existing F-15s in service.
---