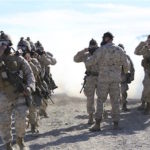 By Natalie Johnson • Washington Free Beacon
The U.S. military has begun redirecting personnel and equipment from Iraq and Syria back to Afghanistan, where the Pentagon hopes to revamp its fight against the Taliban, the top commander of the American-led air campaign in the country said Wednesday.
Air Force Maj. Gen. James Hecker said the drawdown of major operations against the Islamic State in Iraq and Syria has enabled U.S. Central Command, or CENTCOM, to again prioritize the 16-year war in Afghanistan. CENTCOM is the military command responsible for operations in the Middle East and parts of South Asia.
"Afghanistan has become CENTCOM's main effort thanks to the recent successes in Iraq and Syria," Hecker told Pentagon reporters from Kabul. "This has allowed CENTCOM to shift more assets our way, which will significantly improve our ability to assist the Afghans."
The Pentagon's refocus officially began on Feb. 1. Hecker said CENTCOM began deploying additional aircraft to the NATO-led Resolute Support coalition Continue reading →
---