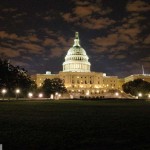 By Clifford Humphrey • The Federalist
It is no secret that the United States is a severely divided nation. In fact, division seems to be one thing that unites Americans today. Across the country, citizens disagree on kneeling, bathrooms, guns, and free speech. Californians are so divided they are actually considering splitting up their beloved republic into three separate states.
The important question on matters of disagreement is: Who gets to settle these differences? The answer, of course, is "We the people," but we are disagreeing more and more about what that phrase even means. This disagreement is based in part on the fundamental distinction between a democracy and a republic.
Our Founders did not believe that the people have a right to enact whatever laws the majority necessarily want, but, rather, that the people have a right to enact whatever laws the people as a whole think are just. That higher aspiration requires Continue reading →
---