By George Landrith • Real Clear Energy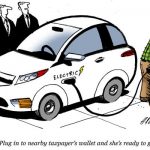 While cold weather, as a new AAA study reveals, can reduce the range of electric vehicles by roughly 40 percent, the prospect of being frozen out of its windfall from Washington kicked the industry's lobbying team into overdrive this winter.
For more than a decade, you, the American taxpayer, have been responsible for funding that windfall through a federal tax credit of up to $7,500 for every luxury electric car sold in the country. Currently capped at 200,000 units per manufacturer, electric vehicle buyers were the beneficiaries of $4.7 billion between 2011 and 2017; absent a repeal, the Joint Committee on Taxation (JCT) projects that figure to total $7.5 billion between FY2018 and FY2022 alone. The Manhattan Institute, meanwhile, estimates that the elimination of electric car subsidies could save taxpayers $20 billion.
Only compounding the ever-growing cost to the American people, NERA Economic Consulting's September study determined that in the No Cap Limit scenario sought by lobbyists for titans like Tesla and General Motors – both of whom have already hit the aforementioned 200,000 per-manufacturer threshold – "total personal income of all U.S. households decreases by $7 billion in 2020 and $12 billion in 2035" on top off "higher total electricity costs" for ratepayers. Overall, NERA concludes that between 2020 and 2035, the net present value reduction in personal income of all U.S. households would swell to a staggering $95 billion. Continue reading →
---