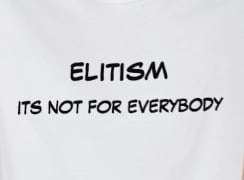 by Michael Goodwin
Ever wonder why liberals insist they are fighting for the middle class but look down on working people? Ever wonder why progressives talk endlessly about diversity yet can't tolerate the slightest dissent from their orthodoxy?
Ever wonder why Barack Obama seems more suited for a European coffee shop than the Oval Office?
Wonder no more. Fred Siegel's new book explains all you need to know about liberalism, a political philosophy that, despite good intentions, careened off track after World War I and hasn't found its way back yet.
"The Revolt Against the Masses" is a brilliantly argued, well-timed case against reactionary snobs who were and remain disgusted with American society. Under the subtitle "How Liberalism has Undermined the Middle Class," Siegel documents with scholarly detail the arrogance of elites who launched a movement that romanticizes the poor while trying, with distressing success, to dismantle the democratic, capitalist traditions that helped establish the middle class. Continue reading →
---