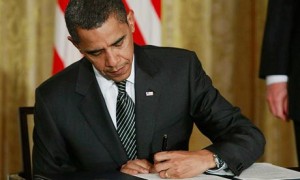 by Ben German
President Obama has a chance to craft a second-term legacy on climate change even as the rest of his agenda runs aground in Congress.
Gun control legislation is dead; immigration reform is on life support; and reaching a fiscal deal with Republicans appears to be a long shot.
To make matters worse, what was supposed to be his signature first-term achievement — ObamaCare — is suffering from a disastrous rollout.
But there's one thing that's going right for Obama: Executive action on climate change is moving full-speed ahead at the Environmental Protection Agency (EPA). Continue reading →
---