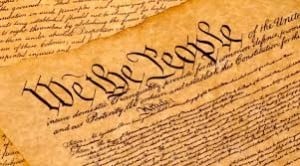 by David Corbin and Matthew Parks
Two hundred and twenty-six years ago today, the Constitutional Convention came to an end. The delegates completed the first step in a process that would, in time, lead to the world's longest-lasting and most successful charter of government. We honor their work as we celebrate Constitution Day. But just how many in America's ruling class are celebrating the Founders' Constitution with us?
Of course, disputes over the Constitution's value arose from the start. After New York Governor George Clinton read it, he called it "a monster with open mouth and monstrous teeth ready to devour all before it." Other (not always less strident) Anti-Federalists included Patrick Henry, George Mason, and Richard Henry Lee—great patriots all who had sacrificed much for American freedom and independence.
The Federalists and Anti-Federalists argued over whether the Constitution was a good means to their common end: to secure the long-term survival of a free republic on American soil. And so they supported or opposed the Constitution based upon their best judgment concerning whether it would help or hinder that effort. Continue reading →
---