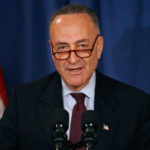 By David Harsanyi • The Federalist
It looks like Senate Democrats have the 41 votes they need to block the nomination of Neil Gorsuch to the Supreme Court. This means majority leader Mitch McConnell is almost surely going to use the nuclear option to confirm him. Which is a shame.
We can only assume this is what Chuck Schumer intended. The minority leader knows full well that, one way or another, Gorsuch would be on the court. Perhaps the nuclear option was fait accompli, but with nothing to show for the 2016 election thus far, Republicans need a tangible victory.
Schumer probably also believes Republicans would nuke the judicial filibuster on the next Supreme Court pick, anyway. He's probably right. So what downside is there for him in forcing the GOP to put the filibuster out of its misery? Continue reading →
---