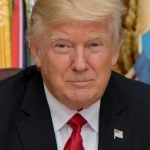 by Stephen Moore • Investor's Business Daily
Is it possible that Donald Trump is winning on trade?
Last week, Trump apparently delivered two underappreciated victories as a result of his threat of stiff tariffs and renegotiated trade deals.
First, Seoul has agreed to reduce long-standing non-tariff trade barriers that have reduced American exports to Korea. Though the details are still sketchy, the Koreans have agreed to buy more Ford and General Motors Co. cars and trucks and other U.S.-made products. This can only be good news for American workers. The Koreans have also agreed to increase reimbursement rates to American drug and vaccine producers.
Even The New York Times grudgingly conceded that the deal "represents the type of one-on-one agreement that Mr. Trump says makes the best sense for American companies and workers."
Also in recent days, China appeared to stand down in response to Trump's jarring announcement of a record $50 billion of tariffs on Chinese products. Premier Li Keqiang pledged to improve American companies' access to Chinese markets. He also said in a news conference that China would treat foreign and domestic firms equally. And what's more, Beijing has promised that it would stop forcing foreign firms to transfer technology to China and would strengthen intellectual property rights enforcement. That was a smart and encouraging response. Continue reading →
---