The attorney general is stepping down and leaving a trail of troubling questions behind.
by Peter Roff   •   U.S. News & World Report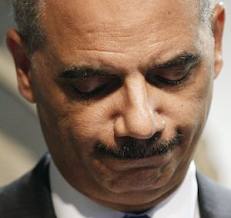 Controversial figure U.S. Attorney General Eric Holder will be stepping down from his post, it was learned recently, leaving the Obama administration as soon as his replacement can be confirmed by the U.S. Senate.
Those who cannot see past race – and thus tend toward wanting to inflate Holder's grade – are praising his tenure in office, lauding the attention he gave issues like civil rights and the manner in which, as NBC's Chuck Todd suggested shortly after the news broke, managed to stay above politics.
In fact, almost every high-profile issue Holder took on had a political taint, especially his intervention in the civil rights arena where he and his department worked to thwart anti-election fraud reforms and to block reasonable photo ID requirements for voters. Continue reading →
---