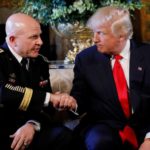 by Mackubin Owens • American Greatness
President Trump's selection of Army Lt. Gen. H.R. McMaster to be his national security adviser has been widely praised, and rightly so. McMaster is a remarkable man cut from the same cloth as the new secretary of defense, Jim Mattis. Both are inspirational leaders. Both are thoughtful, well-read "soldier-scholars." Both are clear thinkers and straight talkers. Indeed, McMaster's intense, fierce outspokenness has not always endeared him to his superiors.
McMaster's story has been recounted many times in recent days. A native of Philadelphia, he is a 1984 graduate of the US Military Academy at West Point. Later, he earned a PhD in history from the University of North Carolina at Chapel Hill, studying under Richard Kohn, the eminent military historian and civil-military relations expert. His doctoral dissertation became Dereliction of Duty, a withering critique of the Joint Chiefs of Staff during the Vietnam War.
As a captain commanding an armored cavalry troop during the first Gulf War, McMaster proved himself to be an aggressive, fearless leader. Continue reading →
---