Here are excerpts from articles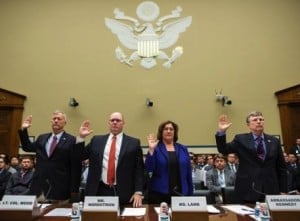 all across America reflecting the growing realization that Obama and his spokesmen and his administration purposefully misled the American public for weeks about the attack on the consulate in Benghazi that resulted in the deaths of four Americans. It is revealing that the President and his team refused to come clean until Congress held hearings. Only then, the truth started to leak out.
The White House never had any evidence that the attack was the result of a spontaneous mob that got out of control. They made that up. It was a lie. The White House never had any evdience that a movie caused the attack in Benghazi — none at all. They made that up too. That too was a bald faced lie. These lies were told by the President himself and by his personal spokesman and by his Ambassador to the UN who was sent out to sell the lies on TV.
This is a serious scandal — far bigger than Watergate. Four Americans are dead and the White House tried for weeks to cover up the details because it is an election year and Obama hopes to avoid accountability.  Continue reading →