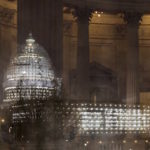 By Gregg Jarrett • Fox News
Some Democrats, still seething over the stalled U.S. Supreme Court nomination of Merrick Garland, are trying. But their dream of delivering political retribution has, thus far, fizzled. That is not likely to change.
Gorsuch's credentials are too impeccable, his intellect too keen and his temperament too even to fall victim to the kind of debasement that felled Judge Robert Bork and coined an infamous phrase.
If the Gorsuch confirmation hearings have proven anything, it's that his opponents have no powder in their guns. Try as they may, there is little in the record of Neil Gorsuch that can be faulted. His rulings have been fair, his legal mind agile, and his fidelity to the law unimpeachable. Continue reading →
---