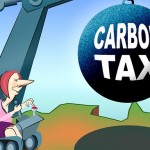 By Benjamin Zycher • National Review
With respect to Washington governor Jay Inslee's renewed proposal for a "carbon" tax on that state's greenhouse-gas (GHG) emissions, a number to keep closely in mind is: 2/1000 of a degree.
That would be the global temperature effect in the year 2100 if Washington were to reduce its GHG emissions to zero immediately. That figure comes from the Environmental Protection Agency's climate model, under a set of assumptions that exaggerate the effects of emissions reductions.
Obviously, the effect of the governor's proposed tax would be vastly smaller. And by the way, the governor's proposal would not apply to jet fuel, as Boeing is the state's largest private employer. Even with that glaring concession to political reality, Inslee apparently still believes that the state should make itself a moral example and "mark the way." Sorry, but the federal bureaucracy until Donald Trump assumed the presidency was way ahead of him. Implementation of the Obama administration's entire package of climate policies would have reduced temperatures by 25/1000 of a degree, while the Paris agreement, if implemented fully, would yield a reduction of 17/100 of a degree. Those effects, by the way, would be too small to be measured reliably.
And so Inslee's claim that his proposed tax would "save our children" from droughts, flooding, fires, and other "existential threats" is preposterous. Continue reading →
---