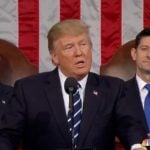 By Ramesh Ponnuru • National Review
Gorsuch confirmed, ISIS defeated, taxes cut: The Trump administration has compiled a solid record of accomplishment in its first year, one that compares well with the records of many of its predecessors.
Two of the biggest accomplishments came late in the year. The prime minister of Iraq declared victory over ISIS on December 9. Republicans reached a deal that seemed to secure passage of a tax bill on December 15. Until then, it appeared possible that 2017 would end without an all-Republican government enacting any major legislation.
Now the Republicans' policy record looks better, at least as most conservatives see it. The tax bill advances several longstanding conservative objectives. It cuts tax rates for most Americans, slashes the corporate-tax rate for the first time in decades, expands the tax credit for children, limits the reach of the estate tax and the alternative minimum tax, and scales back the tax break for expensive homes. By scaling back the deduction for state and local taxes, it may encourage a more conservative fiscal politics in the states. And it allows drilling to proceed in the Arctic National Wildlife Refuge.
---