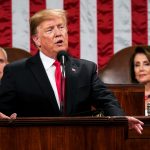 By Andy Puzder • The Morning Call
Anyone listening to President Donald Trump and to Democratic presidential hopefuls hears an almost Dickensian tale of two very different Americas.
The president takes "the best of times" view and spoke during his State of the Union address about "an unprecedented economic boom" in which "our economy is thriving like never before."
Democratic presidential hopefuls take the "the worst of times" view and speak of an America that works only for the rich, while working-class paychecks fail even to keep up with the cost of living and people are struggling to get by.
Is either side right?
The American public appears to increasingly share Trump's sunny view. A Gallup poll released on Monday, under the headline "Americans' Confidence in Their Finances Keeps Growing," found that more than two-thirds — 69 percent — of Americans expect to be better off in the coming year. That's "only two percentage points below the all-time high of 71%" recorded 20 years ago. The poll was based on telephone interviews with 1,017 adults conducted between Jan. 2 and Jan. 10. Continue reading →
---