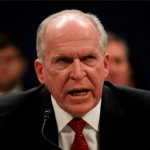 Nation's Secrets: Democrats and spy agency bureaucrats squealed with rage after President Trump pulled former CIA Director John Brennan's security clearance. Why are they upset? Brennan clearly abused his privileged security clearance by using it for political purposes and profit.
"Mr. Brennan's lying and recent conduct, characterized by increasingly frenzied commentary, is wholly inconsistent with access to the nation's most closely held secrets and facilities, the very aim of our adversaries, which is to sow division and chaos," said White House Press Secretary Sarah Huckabee Sanders, reading a statement.
There's no question that Brennan lied, both to Congress and the American people, more than once and under oath.
And for someone with continued privileged access to the nation's secrets to call the president "treasonous" merely for speaking to Vladimir Putin isn't an exercise of freedom of speech — it verges on a threat.
---