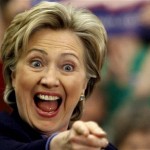 by Peter Roff • U.S.News
So many shoes have dropped on the matter of former Secretary of State Hillary Rodham Clinton's conduct and ethics she's starting to resemble former Philippine first lady Imelda Marcos. No one else has as many shoes.
Now we find out, midway through the presidential campaign, that her family foundation was selling access to her while she was in charge at Foggy Bottom. Whether or not she actually did anything in exchange for the more than $100 million in contributions received – many coming from people ineligible to give to U.S. presidential campaigns – the point is clear: If you wanted access to the secretary you had to go through the foundation.
We've seen this kind of thing before, going back to the Arkansas days when Bill Clinton was the governor and she was busy at the Rose Law Firm. Everything with them is pay for play – even when there is no demonstrable pro quo to go along with the quid. Continue reading →
---