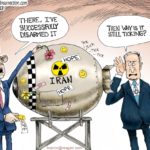 By Kenneth R. Timmerman • Fox News
Security expert Ryan Mauro comments on 'Fox & Friends First.'
The Iran nuclear deal is dead – and the mullahs who rule the Islamic Republic have only themselves to blame.
There is no need for President Trump to even announce that the United States is pulling out of the deal. Iran killed the agreement through its own willful actions and blatant lies, even before the deal was officially implemented on Jan. 16, 2016.
President Obama and Secretary of State John Kerry – who negotiated the nuclear deal with Iran and the European Union, Russia, China, France, Britain and Germany – heaped praise on the agreement when it was reached in July 2015, ignoring its fatal flaws.
The premise of the deal, which was designed to prevent Iran from developing nuclear weapons, was simple: Iran agreed to restrictions on its nuclear activities and said it would provide Continue reading →
---