Having an absentee president is bad for both the health of veterans and the nation. The president may have gotten away with treating the IRS scandal as no big deal and questions about Benghazi as merely a Republican witch hunt. But the spectacle of widespread corruption at the heart of a government health-care system that led to the deaths of veterans is not one you can pass off as a product of the fevered imaginations of his opponents.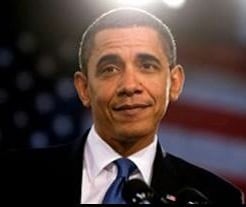 by Jonathan S. Tobin
On Tuesday, White House Press Secretary Jay Carney sought to partially walk back his statement yesterday in which he said President Obama learned about the growing scandal at the Veterans Administration by watching a report on the topic on CNN. After realizing just how bad that sounded, Carney returned to the daily briefing with the White House press corps today to say that his statement was being misinterpreted. According to Carney, what he really meant to say was that the president had only heard of the "specific allegations" about misconduct at VA hospitals by watching television. But, he insisted, the president was aware of problems at the VA, as proved by statements he had made during his 2008 presidential campaign when he promised to fix the agency.
Which is to say that, yes, Barack Obama had heard of the VA and had some vague intention to improve it as part of an effort to pose as someone who cares about our nation's veterans. But between his arrival in the Oval Office and his subsequent appointment of retired Army General Eric Shinseki to head the VA in 2009 and the moment when he stumbled into awareness about the scandal during the course of spending some quality time with his remote control, he hadn't given the topic much, if any, thought.
The administration's problem here is not just that the VA scandal is far more serious than even Carney is currently willing to admit and that any action it is currently taking to address the plague of mismanagement and corruption that may have cost the lives of at least 40 veterans while they awaited treatment is too little and too late. As I noted last week, having an absentee president is bad for both the health of veterans and the nation. The president may have gotten away with treating the IRS scandal as no big deal and questions about Benghazi as merely a Republican witch hunt. But the spectacle of widespread corruption at the heart of a government health-care system that led to the deaths of veterans is not one you can pass off as a product of the fevered imaginations of his opponents. That's especially true when you consider that Rep. Jeff Miller, the chair of the House Veterans Affairs Committee, wrote specifically to the president a year ago to bring to his attention what was already believed to be a widespread problem involving inefficiency and deceptive practices. Continue reading →
---