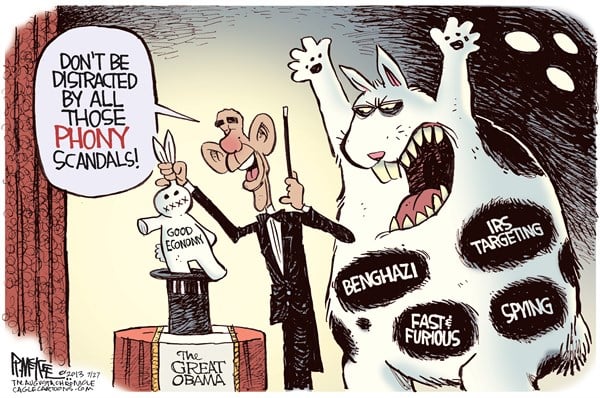 When Obama condemns "phony scandals," we can assume investigators are getting warm.
by John Fund
Back on May 13, President Obama reacted heatedly to news that the IRS had delayed and harassed conservative groups applying for nonprofit status. "I have got no patience with it, I will not tolerate it, and we will make sure that we find out exactly what happened on this," he told reporters
How is the president living up to that pledge? At best, meh. At worst, we are seeing a slow-motion cover-up. In a speech he made last week, he railed against an "endless parade" of "phony scandals" that are slowing down the nation's business. In other words, nothing to see here, it's time to "move on."
Last Sunday, Treasury Secretary Jack Lew appeared on Fox News Sunday and backed up the president. He did damage control on recent congressional testimony by IRS lawyer Carter Hull that implicated the office of William Wilkins, the IRS's chief counsel and an Obama political appointee — Wilkins is by no means the "rogue" low-level bureaucrat the administration first blamed for the scandal. Also, consider this timeline of IRS activity in the spring of 2010, as midterm elections loomed and the tea-party groups targeted by the IRS began seeing their applications for nonprofit status slow-walked or put into deep freeze.
April 23, 2010: Wilkins visits President Obama in the Roosevelt Room at the White House. That room is traditionally the only part of the White House where a president discusses political matters.
April 24, 2010: IRS Commissioner Douglas Shulman visits the White House
April 25, 2010: Wilkins's Office of Legal Counsel sends the IRS units that handle exempt organizations' applications "additional comments on the draft guidance" that it had prepared for approving or denying applications from tea-party groups.
Even though President Obama personally assigned Lew the job of finding out "exactly what happened on this," Lew proved evasive last Sunday in answering the questions that Fox's Chris Wallace asked about the investigation.
WALLACE: Have you asked William Wilkins, the IRS chief council appointed by President Obama, what involvement he or his office had in all of this?
LEW: Chris, to be clear — there's 1,600 lawyers in the chief council's office, and there was no suggestion that this went to the one political person in that office. There's no evidence of it. There has been no evidence of it.
WALLACE: Well, wait a minute, have you asked him?
LEW: Chris, I'm leaving the investigation to the proper people who do investigations. I don't think it's appropriate for me to do the investigation.
WALLACE: Has somebody in the Treasury Department asked William Wilkins what he knew about this?
LEW: Chris, there is no evidence that this went to any political official.
WALLACE: Well, there hasn't been an investigation. The Justice Department investigation isn't complete. The inspector general never conducted an investigation. He conducted an audit. So, who — where is the investigation?
LEW: An awful lot of time has gone into asking a lot of questions of a lot of people. I'm not saying it's done, and we will cooperate with all of the ongoing investigations. We have and will.
It looks as if the investigations Lew is so detached from or unwilling to discuss will have to expand. National Review Online's Eliana Johnson has reported that IRS official Lois Lerner, now on paid administrative leave over her role in the nonprofit scandal, apparently colluded with an official in the Federal Election Commission's office to influence an FEC commissioner's vote on the legality of actions by a conservative nonprofit group. Reporting on the e-mails she obtained (uncovered by the House Ways and Means Committee), Johnson wrote this week:
The correspondence suggests the discrimination of conservative groups extended beyond the IRS and into the FEC, where an attorney from the agency's enforcement division in at least one case sought and received tax information about the status of a conservative group, the American Future Fund, before recommending that the commission prosecute it for violations of campaign-finance law. Lerner, the former head of the IRS's exempt-organizations division, worked at the FEC from 1986 to 1995, and was known for aggressive investigation of conservative groups during her tenure there, too.
To add to that, Representative Darrell Issa, chairman of the House Oversight and Government Reform committee, sent a letter on July 29 to Russell George, the inspector general for the IRS. In it, he asked George to expand his audit of the IRS to include charges by 78 conservative groups and individuals that the IRS not only slow-walked and harassed new applicants for nonprofit status, but it also actively engaged in "deliberate targeting of existing conservative public-policy organizations."
IRS employee Cindy Thomas told Issa's investigators, as Issa lays out in the letter, that a memorandum prepared for a meeting with Lois Lerner in 2011 lists as a potential "next step" the referral of "the organizations that were granted exemptions to the [IRS's Review of Operations unit] for follow-up." Hillary Goehausen, another IRS employee, told Issa's staff that the scrutiny of conservative nonprofits that already had tax-exempt status wasn't based on any of their current activities but merely on the potential for future abuses.
Issa told George he is "troubled by evidence that IRS may have conducted unnecessary audits and systematic post hoc reviews of . . . certain groups that have long possessed tax-exempt status."
The IRS scandal is growing, not shrinking. Perhaps that's one reason the Obama administration is changing its tune. The White House has come a long way since Obama's May statement that he wanted "to make sure we find out exactly what happened on this."
Since then, Obama's loyal troops in Congress have gone out of their way not to uncover the truth but to attack the integrity and competence of IRS Inspector General George. Obama's admonition last month that we ignore the "phony scandals" has been picked up by many of his elite media supporters. As any journalist who has followed the trajectory of most Washington scandals knows, such behavior is a clue that those looking into the IRS scandal might be getting warm.
.     .     .     .     .     .     .      .     .     .     .     .     .     .
John Fund is national-affairs columnist for National Review Online.