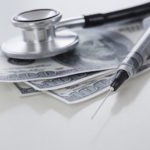 By Charles Silver & David A. Hyman • National Review
If you've ever been in a collision, you've probably dealt with a body shop. In all likelihood, the process went smoothly. You paid your deductible, your insurer paid the rest, and that was the end of the financial side of the repair.
Health care works differently. After eight-year-old Ben Millheim injured himself during a camping trip, his family was stuck with a $32,000 bill from the sky-ambulance company that flew him 88 miles to a hospital in St. Louis. That was the balance that remained after the Millheims' insurer paid $12,000 for the service. Elizabeth Moreno was stuck with a bill for $17,850 because a physician asked her to provide a urine sample. She didn't know that the doctor's testing lab was out of her insurance network. Moreno's insurer, Blue Cross Blue Shield of Texas, which would have paid an in-network lab $101 for the service, refused to cover the bill at all. Fearing for his daughter's credit rating, Moreno's father bargained the bill down to $5,000 and paid.
The Millheims and Morenos are but two of the tens of thousands of families who receive surprise medical bills every year. These are "balance bills," that seek to hold patients responsible for charges their insurers won't pay. The problem is so bad and so Continue reading →
---