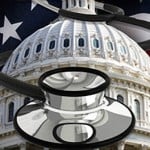 By Stephen Moore • Washington Post
The danger of a Republican bailout of Obamacare is mounting with every passing day. A group of "moderate" Republicans calling themselves the Problem Solvers Caucus is quietly negotiating with Democratic leaders Nancy Pelosi and Chuck Schumer to throw a multi-billion dollar life line to the Obamacare insurance exchanges.
This bailout, of course, would be an epic betrayal by a Republican Party which has promised to repeal and replace the financially crumbling Obama health law.
Republicans who are "negotiating" this bipartisan deal, such as Sen. Lamar Alexander of Tennessee, object to the term "bailout" for this rescue package. The left prefers the euphemism "stabilizing the insurance market." Continue reading →
---