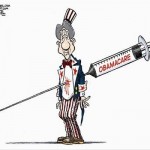 By Scott Ehrlich • The Federalist
On the day the American Health Care Act passed the Republican-controlled House of Representatives, the hashtag #IAmAPreExistingCondition was trending on Twitter. At the time I saw it, there were about 65,000 tweets on it.
Earlier that day, I had read in a different article that at its peak only 115,000 were members of the Pre-Existing Condition Insurance Plan (PCIP), a high-risk insurance program established as a bridge between pre-Obamacare coverage and the establishment of its exchanges. This brought to mind two key realizations: people care very much about those with pre-existing conditions and want to see them taken care of, but it's also not a huge number of people and it's very hard and expensive to insure them no matter what mechanism Americans use.
How People with Pre-Existing Conditions Get Insurance Continue reading →
---