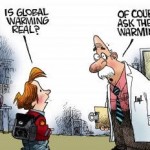 By Julie Kelly • National Review
In his testimony to the House Science Committee on Wednesday, Michael Mann, one of the world's leading climate scientists, told the story of Trofim Lysenko, a plant scientist who worked for Stalinist Russia:
Lysenko was a Russian agronomist and it became Leninist doctrine to impose his views about heredity, which were crackpot theories, completely at odds with the world's scientists. Under Stalin, scientists were being jailed if they disagreed with his theories about agriculture. And Russian agriculture actually suffered, scientists were jailed, many died in their jail cells and potentially millions of people suffered from the disastrous agriculture policies that followed from that.
The gist of Mann's anecdote was that scientists who challenge the ruling government's diktat on any given scientific issue are demonized and punished while innocent bystanders suffer. In the here and now, this would seemingly apply to the minority of scientists brave enough to question the reigning dogma of climate science. After all, these are the folks who have been threatened by top law-enforcement officials, personally and professionally attacked by their peers, and even driven out of their academic positions due to the harassment. Continue reading →
---