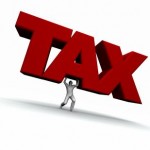 Brian Ellis • Investor's Business Daily
Employers have until Thursday to implement new tax withholding guidelines, which determine how much they withhold from pay for federal taxes.
Fortunately for many Americans, job creators are already seeing lower rates and distributing larger paychecks. Treasury Secretary Steve Mnuchin estimates more than 90% of working Americans will see greater take-home pay because of the Tax Cuts and Jobs Act's new withholding guidelines.
It's further proof that tax cuts are working for the middle class. To date, more than 330 U.S. employers have publicly announced tax-induced wage hikes, 401(k) increases, and generous bonuses. While Apple and Wal-Mart grab the headlines, many beneficiaries of the Republican tax bill are small businesses, which account for two-thirds of new jobs in the country.
Missouri-based Dynamic Fastener, a construction hardware supplier, is rewarding employees with bonuses of up to $1,000, while also opening a paint shop, buying new equipment and Continue reading →
---