More than half of Hillary's meetings with nongovernmental people were with donors. And foreign government officials who met with Hillary gave more than $170 million to the Clinton Foundation.
By George Landrith • Frontiers of Freedom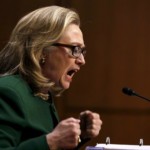 The winds of scandal continue to swirl around Hillary Clinton, the Clinton Foundation, and the State Department. Oddly, the State Department has allowed itself to become sucked into defending Hillary and the Foundation despite the unsavory facts. It is highly inappropriate for the State Department to work to tamp down the facts and obfuscate what actually happened. It has no duty to defend Hillary's private actions. As a result of the State Department's very odd behavior in trying to hide Hillary's actions from pubic view, it has made Hillary's wrongs, its own.
One of the biggest whoppers often told to defend the Clintons and their Foundation is that it is a charity doing lots of good all over the world and thus we should not worry about these details. The Foundation may very well do some good here and there. But the truth is — the Clinton Foundation collects hundreds of millions of dollars from some very curious donors and gives less than 10% in charitable grants.
In 2013, the Clinton Foundation raised $149 million and only distributed charitable grants totaling less than $9 million. That is only about six percent. Continue reading →
---