By Dr. Miklos K. Radvanyi • Frontiers of Freedom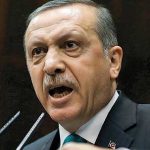 The greater Middle East that Turkey is historically, politically, and religiously has been a part of, presently passes through numerous overlapping and extremely bloody crises. Divisions between those countries that are desirous to maintain the status quo and Iran that wants to radically transform the region to its advantage are running deep. Moreover, at least since 2011, the region has been broken up between those regimes that desire to arrest the flow of blood and reestablish peace, and those that promote the religious ideology of Divine right by their military might. Finally, the states involved in this life and death struggle have been busy to put together shifting alliances that only contribute to the overall chaos and anarchy.
The entry of Turkey into this mess following the eruption of the so-called Arab Spring has been an unmitigated disaster for the country and also personally for President Recep Tayyip Erdogan. Having been driven by his messianic Ottoman and Islamist mentality, President Erdogan has failed to comprehend the difficulty of gaining any real influence over the ethnically and religiously diverse fellow rulers who are shaping events across the region and beyond. Clearly, with the notable exception of the United States of America and Israel, it appears that it is the ruling Shi'a clergy in Iran and the Sunni rulers throughout the Arabian Peninsula who are exciting their peoples, and decisively dominate the political narratives. In this context, the policies of President Erdogan has too much the appearance of Ottoman restoration.
---