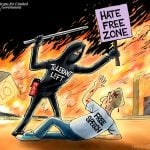 By James Altschul • The Federalist
After two days of public outcry, Twitter has reinstated the account of conservative commentator Jesse Kelly. Contradicting their initial message to Kelly, which notified him that his account had been "permanently suspended" and "[would] not be restored," a Twitter spokesperson stated on Tuesday that Kelly's account had instead been "temporarily suspended for violating the Twitter rules." Precisely which rules Kelly violated were not specified.
Given the opacity of the process, we can only speculate on what caused Twitter to reverse course, but a good bet would be the threat of governmental reprisal hinted at by tweets from Sen. Ben Sasse and Senator-elect Josh Hawley.
While Sasse merely commented that "The trend of de-platforming and shutting down speech is a bad precedent for our free speech society," Hawley was more explicit, writing, "The new Congress needs to investigate…Twitter is exempt from liability as a 'publisher' because it is allegedly 'a forum for a true diversity of political discourse.' That does not appear to be accurate." Continue reading →
---