By Peter Roff • Newsweek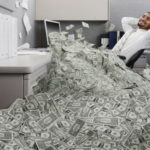 1,000,000 new jobs. You'd think you'd hear a lot about such an impressive number. So far, it's made little splash in the media. Nonetheless, since the Republican tax cuts were signed into the law the U.S. economy has created one million new jobs. And that's just the beginning of the good news.
In May 2018 alone, defying the expectations of many economists, 223,000 jobs were created. The unemployment rate has dropped to 3.8 percent, its lowest point since April 2000. Unemployment among black people and Hispanics is at the lowest point since the numbers were first broken out by race during the Nixon Administration.
The American economy is surging, even before the new, lower corporate and personal tax rates go into effect. The promise that companies and most individuals will soon be able to keep more of what they earn has, alongside the Trump Administration's successful effort to deregulate vital sectors of the economy, Continue reading →
---