It's a good start, but it can't be the end of the GOP's economic efforts.
By Peter Roff • US News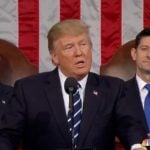 The Republicans have kicked off the New Year with an earnest effort to sell the American public on the benefits of the tax bill just passed. It's better than nothing, but if they hadn't put the cart before the horse in the first place, they might not be in as much of a mess.
To be sure, achieving the first major overhaul of the U.S. tax code in 30 years without the single vote of a single Democrat is a considerable accomplishment. And, unlike the Affordable Care Act – with all the regulations and other nonsense Barack Obama piled on the economy in his first two years – the Tax Cut and Jobs Act of 2017 will be a boost to the economy rather than a drag. Still and all, telling the voters they should be for it because it puts more money in their pockets (or, more accurately, leaves it there in about nine out of 10 cases) doesn't really constitute a Reaganesque vision for a more prosperous America in which each citizen has a vested share.
Hopefully things will turn towards the better, and soon, meaning the Republicans will retain control of Congress through 2020 and be able to pass additional tax cuts, continue to lessen the size of government, remove unnecessary and counter-productive controls on productive economic activity, and set the stage for another long boom like the Reagan tax cuts kicked off back in the early 80s. But time and the narrative are not yet on the GOP's side.
Like it or not, even with relatively low rates of inflation for much of the last decade, the purchasing power of the dollar has declined. Families are felling pinched, which is part of the reason many of Continue reading →
---