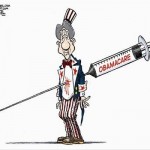 by Ali Meyer • Washington Free Beacon
The Obama administration could bail out Obamacare insurers through its risk-corridor program, according to an expert from the Mercatus Center.
The risk-corridor program was designed to constrain risk for health insurers who had uncertainty in pricing premiums for new plans they offered through Obamacare. The program was established and administered in years 2014, 2015, and 2016 and transferred funds from profitable insurers to insurers with losses.
In 2014, the risk-corridor program experienced a shortfall of more than $2.5 billion. Poorly performing insurers requested $2.87 billion in that year, while profitable insurers could only make up about $362 million, leaving a deficit of about $2.5 billion. Continue reading →
---