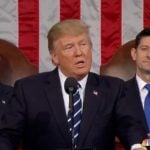 By Jeremy Carl • National Review
As one would expect from a president who is a master of political theater, the backdrop for this week's announcement of his executive order "Promoting Energy Independence and Economic Growth" was dramatic: President Trump, with twelve all-American-looking coal-miners flanking him, announced that he was undoing a number of President Obama's climate policies, while announcing a number of pro-energy-development ones. As is typical with this president, though, the media were so wrapped up in the theater that the substance of the order was almost entirely buried in many stories.
But while the green lobby was rending its garments and proclaiming the end of the world, more astute observers noticed what Trump's executive order didn't do — which was arguably more important than what it did.
Notably, the president did not (1) withdraw the U.S. from the Paris Climate Agreement or (2) start a process to repeal the EPA's endangerment finding on carbon emissions, which underlies the Obama administration's Clean Power Plan. Continue reading →
---