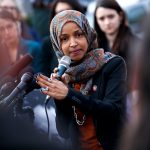 By Rich Lowry • National Review
The Left distorts what happened in El Salvador in the 1980s.
In a viral exchange at a congressional hearing last week, the new congresswoman from Minnesota, Ilhan Omar, who is quickly establishing herself as the most reprehensible member of the House Democratic freshman class despite stiff competition, launched into Elliott Abrams. She accused the former Reagan official and Trump's special envoy to Venezuela of being complicit in war crimes.
"Yes or no," she demanded, "would you support an armed faction within Venezuela that engages in war crimes, crimes against humanity or genocide, if you believe they were serving U.S. interest, as you did in Guatemala, El Salvador, and Nicaragua?"
Omar was cribbing from the Left's notes on U.S. Latin American policy, and doing it badly. She made much of the 1981 El Mozote massacre in El Salvador. The idea that Abrams is somehow directly implicated in this bloodcurdlingly awful event is completely absurd. Continue reading →
---