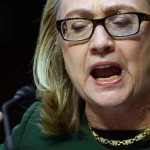 By Joey Wulfsohn • The Federalist
Hillary Clinton has gone global with her self-pity party.
At a speaking event in India, the failed presidential candidate extended her list as to why she lost the election and while doing so attacked all 63 million Trump voters.
Clinton began by explaining how on the electoral map, Donald Trump won "all that red in the middle" while she won the coasts and states like Illinois and Minnesota. But then she goes on to explain how she won in places that "represent two-thirds of America's gross domestic product" and that are "optimistic" and "diverse." In other words, urban cities.
She then said the following: "His whole campaign: 'Make America Great Again' was looking backwards. 'You didn't like black people getting rights? You don't like women, you know, getting jobs? You don't want to, you know, see that Indian American succeeding more than you are? Whatever your problem is, I'm going to solve it.'" Continue reading →
---