Landrith Calls On RNC Chairwoman for "Campaign Closer"
---
One of the most unforgettable moments in American history! Remember this? WATCH AGAIN & CATCH THE GLOW! https://youtu.be/nxpxpY7IEwo (1min & 28 secs.)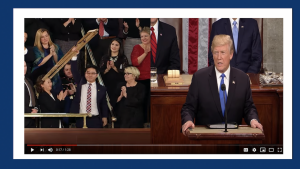 ---
EVEN THE MEDIA ADMITTED TRUMP TOUCHED THE HEART OF AMERICA. VOTE! VOTE! VOTE! https://youtu.be/LsuPSqeFL6Q (1min & 13secs)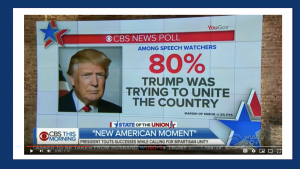 ---
JUMPIN JOE MANCHIN SHOWS WHY ALL DEMOCRATIC MEMBERS OF CONGRESS ARE LIBERAL EXTREMISTS: https://www.youtube.com/watch?v=asNARZGYxB4 (15 secs.)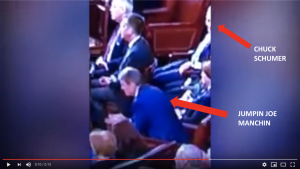 ---
Letter to Chairwoman McDaniel: 
Dear Chairwoman McDaniel,
As a nationwide poll released Thursday by McLaughlin Associates shows: If Republicans develop a strong national message in the final week of the campaign, then an historic victory is at hand.
In persuading undecideds and motivating pro-Trump voters that national message must bring home the tremendous accomplishments of President Trump, but also emphasize the great danger to further progress posed by the slavish adherence of democratic Members of Congress to their extremist liberal leadership.
We believe, Chairwoman McDaniel, that you are uniquely positioned to assist the party in achieving both ends. Please let us explain.
We believe nothing will help accomplish the objective stated above and do more to assist Republican candidates then reminding the public that shining moment in American history earlier this year when President Trump delivered perhaps the greatest and most moving State of the Union address in modern history.
At the time, the White House captured in a brief video (only 1 minute 43 seconds) the drama and eloquence of President Trump on that night. From his words about America, to the pictures of the American heroes in the gallery, to that final photo of the North Korean defector holding aloft his crutches, it is impossible to watch this video and not to be moved or hold back tears.
Almost as affecting is a second White House video, again a very brief one, that captures the stunned reaction of the media as more than 80% of Americans reported that they believed President Trump was unifying the country.
We now have both videos posted on our website and we invite you to watch again what no less than 45.6 million Americans saw that night.
But we also have a third video on our page that we ask you watch — a video that completes what we believe is the final winning message to the American people in the 2018 election, a video that sends a grave warning to voters.
The video is one of West Virginia Democrat Joe Manchin starting to get up and then sitting right back down during President Trump's address as Democrats refused to stand and applaud at unifying moments during the speech — moments like the tribute to family survivors of crime victims or celebration of the economic gains by African-Americans and Hispanics.
That picture of the man we call "Jumpin' Joe Manchin" underscores the great Democratic Party dilemma in this election. There are no moderate Democratic candidates left in the party.
Over and over again the President has used the words liberal and extremist to describe Democratic candidates for office. He's done so for a reason.
Voting for any Democrat in Congress is a vote  to put liberal extremists like Nancy Pelosi and Chuck Schumer can charge.
Chairwoman McDaniel, the RNC has the resources to get out two important messages.
First, help President Donald Trump keep making America great again.
Second, STOP Pelosi and STOP Schumer and STOP the Liberal Extremists.
We urge you to consider in the closing week of the campaign a national TV buy that puts again president Trump's extraordinary State of the Union moment before the American people, but also reminds them that all Democratic Members of  Congress are "Jumpin' Joe Manchins" and a vote for any Democrat is a vote for a far Left wing agenda that will throw into reverse all the great accomplishment of President Trump's first two years in office.
Sincerely,
George Landrith
---
Paid for by Frontiers of Freedom Action. Not authorized by any candidate or candidate's committee.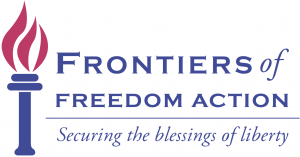 Frontiers of Freedom Action, Inc. is a 527 political organization created to educate the public about public policy and to make the positions of elected officials and candidates for political office more transparent through education of the public about the votes, positions on issues, public statements, etc. of those seeking public office.
Paid for by Frontiers of Freedom Action. Not authorized by any candidate or candidate's committee.