by Dr. Lawrence A. Franklin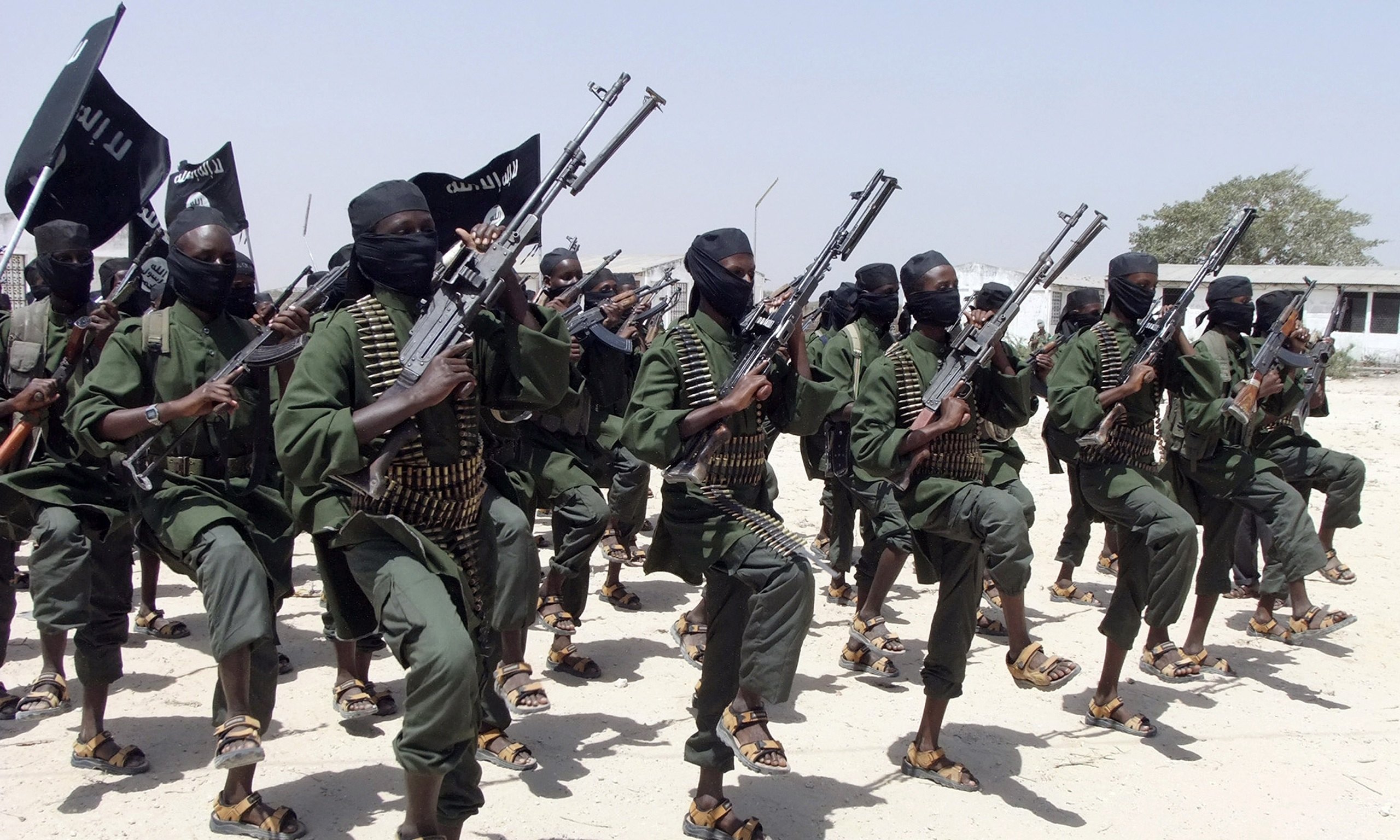 Al-Shabab, the Somalia-based terrorist group, appears to have adopted a new strategy to turn its Islamist war into a nationalist conflict targeting Kenya. Following al-Shabab's military setbacks at the hands of African Union Mission Somalia (AMSOM) troops deployed to Somalia, the group's operations may have shifted from tactical battles to spectacular acts of terror against Kenyan civilians.
Al-Shabab has been responsible for several recent operations inside Kenya that have commanded the attention of the world's media. These terrorist spectaculars have included among others, the Westgate Mall slaughter of September, 2013; the killing of bus passengers in the Mandera District of the Northern Province in November, 2014; the assassination of quarry workers near Koromey township on 2 December 2014; and the mass murder of students in the area's Garissa District in early April of this year. While virtually all of the victims of these terrorist attacks have been Christians, none of the murdered have been members of Kenya's Somali population. Consequently, the killings have a religious as well as an ethnic dimension.
Though al-Shabab operatives have been targeting Kenya's Christians, most of these attacks have occurred in the predominately ethnic-Somali Northern Province. Ethnic Somalis throughout East Africa and supporters of a "Greater Somalia" have long claimed that the Northern Province rightfully belongs to Somalia.1 This assertion has been aired by Somalis ever since Somalia was granted independence in 1960. Ethnic Somalis in Kenya's Northern Province even fought a failed guerilla war of secession from 1963 to 1967. However, no Kenyan government has countenanced cession of the Northern Province to Somalia, as Kenya would lose one-fifth of its territory.2
Some regional experts have blamed abusive behavior by Kenyan police personnel for the deteriorating security situation which has caused ethnic Somalis who are Kenyan citizens not to cooperate with authorities. These area specialists have suggested that law enforcement authorities' indiscriminate sweep operations, leading to the arrest of many innocent Somalis, have alienated citizens in the Northern Province.3
One journalist has attributed al-Shabab's successful assaults inside Kenya to intelligence failures by the country's security services.4 Another prominent analyst at the Washington D.C.-based Jamestown Foundation suggests that Kenya's decision to deploy troops to Somalia "may have locked it into a long and costly struggle…against Somali Islamists."5
It appears that al-Shabab is exploiting Kenya's involvement in Somalia to gather support among ethnic Somalis for the terrorist group's retaliatory strikes inside Kenyan territory. Al-Shabab may be counting on ethnic Somalis in Kenya's Northern Province to facilitate any future terrorist spectaculars that it might be planning. Joseph Alessandro, the Catholic Bishop of Garissa cryptically commented that "You just don't know the enemy within".6
Other Catholic Prelates, during a recent visit to the Vatican, were more circumspect in their comments. For instance, Chairman of the Kenya Conference of Catholic Bishops, Cardinal John Njue, urged Kenyans "to pray for the souls of the departed students, their bereaved families and for Kenya's political leaders to steer the country towards unity and togetherness." The Pope's own public remarks referencing the recent terrorist atrocity at Garissa University, during his address of welcome to Kenya's Bishops seem even milder, as he urged that "those who commit such banality come to their senses and seek mercy."7 However, at least one prelate within Kenya's Conference of Catholic Bishops has been pressing Kenyan government authorities to upgrade the performance of security forces, as evidenced by Bishop Emanuel Barbara of Malindi's comment, "We are putting pressure on the government to change the way the security forces deal with the situation."8
Nevertheless, it is plausible that cells sympathetic to Al-Shabab may exist among Kenya's urban Somali neighborhoods in the capital Nairobi and the port city of Mombasa. One neighborhood in Nairobi is called "Little Mogadishu" because it is almost exclusively populated by ethnic Somalis. There is also the possibility that some among Kenya's non-integrated Arab citizenry, who mostly live along the Kenyan Coast and who have historical ties to Arab slave traders, might be lending financial support for al-Shabab operations inside the country.
If al-Shabab is successful in transforming their jihadist terrorist war into a nationalist conflict between Somalis and Kenyans, Kenya may request greater military assistance from its American ally. The Djibouti-based American Combined Joint Task Force in the Horn of Africa may be ordered to provide that aid. Eventually, there is the possibility of a wider East African War which might necessitate U.S. "boots on the ground".
1 Somali Nationalism by Saadia Touval. Harvard University Press: Cambridge, Mass. 193, pp.147-154.
2 Ibid. p. VI.
3 "Al-Shabab Exploits Kenyan Crackdown to Recruit Muslim Youth" by Muhyadin Ahmed Roble.
4 Reuters claims that Australia warned about an impending attack planned for Nairobi 28 March 2015. One anonymous Kenyan Member of Parliament said that intelligence warning reports were specific and actionable, Reuters 3 April 2015. These warnings were delivered a week before the actual terrorist assault on Garissa University
5 Ibid. p.5.
6 Vatican Radio 10 April 2015, Interview with Bishop of Garissa Joseph Alessandro.
7 Vatican Radio 16 April 2015, "Pope's Address to Kenyan Bishops"
8 Catholic Herald 8 December 2014 "Christians in Kenya Living in Fear After Latest Islamist Attack"