Barack Obama's presidency has empowered the adversaries of the United States
by Matthew Continetti     •     Washington Free Beacon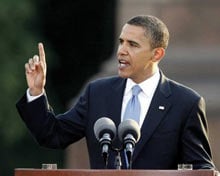 This week President Obama won the 34th vote in support of his nuclear deal with Iran. The vote, from Senator Barbara Mikulski, guarantees that the deal will survive a rejection by Congress. The fact that the deal will be made despite such opposition—something a few of us predicted months ago—is, in the words of the AP, a "landmark Obama victory." It is worth asking how many more of these victories our country can withstand.
The president and his supporters, of course, say their foreign policy has improved the world. "Like George H.W. Bush and Bill Clinton," writes Gideon Rose of Foreign Affairs, "Obama will likely pass on to his successor an overall foreign policy agenda and national power position in better shape than when he entered office, ones that the next administration can build on to improve things further."
I'm not convinced. Rather than trying to predict how things will look when Obama leaves office, rather than contemplating abstractions such as our "overall foreign policy agenda" and "national power position," why not examine the actual results of Obama's policies, as they exist now, in the real world before our eyes?
If we do that, we get an outcome different from Gideon's. Subjectively, the president may be trying to peacefully integrate rogue regimes into the liberal international order. Objectively, however, the result of Obama's foreign policy is to empower America's adversaries. This has been, in its conduct and consequences, an anti-American White House.
I am not saying that the president or the Democratic Party is anti-American in ideology or rhetoric or intent. What I am saying is that the net effect of President Obama's actions has been to legitimize, strengthen, and embolden nations whose anti-Americanism is public and vicious and all too serious.
Iran is an obvious example. The anti-Americanism and anti-Semitism of the regime is inescapable. Not even Obama, who has gone out of his way to defend the Iranians as rational actors, can ignore it. How has Iran's "power position" been affected by this White House? In 2009, when the regime faced its most serious challenge in years, the president was silent. In 2011 and 2013, when urged to act against the regime's closest ally in Syria, the president did nothing.
Why? To speak out in favor of protesting students, to support the Syrian rebels, to punish Bashar al-Assad for violating red lines the president himself had drawn—these acts would have jeopardized the nuclear negotiations with Iran.
The outcome of those negotiations was a deal in which the Iranians agree to suspend some elements of their nuclear research for about a decade in exchange for billions of dollars in sanctions relief. So a fundamentalist theocracy whose leaders chant "Death to America" and whose self-identity is based on a revolutionary challenge to the United States and Israel has been endorsed as a quasi-member of the "international community," and will receive an infusion of much needed cash.
The Iranian leadership is strengthened, the Iranian economy is strengthened, the Iranian paramilitaries and terrorist affiliates—active in Iraq, Syria, Lebanon, Yemen, and beyond—are strengthened, all in the fissiparous hope that decades from now this deal will result in Iran's liberalization. Oh, and at the end of the decade, Iran retains the capability to build an atom bomb. How powerful, how dangerous, will Iranian anti-Americanism be then?
Cuba is not as important a world power as Iran, but it, too, was forged in anti-American upheaval, its ideology is anti-American, anti-capitalist, and anti-liberal, and its elite bears long-held grievances against the United States. The U.S. trade embargo may not have driven the Castros from power, but it nonetheless expresses American opposition to the nature of Cuba's government, and to the aims and practices of its rulers. President Obama's thawing of relations with Cuba repudiates this traditional, bipartisan, moral stand in return for … what exactly? The truth is we receive less from the opening of Cuba than we do from our détente with Iran.
The United States, as a superpower, can afford to be magnanimous with nuisances such as Cuba. But that doesn't mean we should indulge in the fantasy that the provision of economic and diplomatic stimulus to a decrepit communist backwater will bring positive consequences for the cause of freedom and democracy, and improve the political status of the Cuban people. Nor should we cling to the idea that engaging and trading with the Cubans will pacify them. America has been trading with China for decades. The Chinese are just as un-free as they were the day Apple built its first factory there—and indeed China is more powerful, its influence greater, its willingness to challenge the United States more robust than before. What will Cuba look like—how well armed and fascistic will it be—after 20 years of trade with America?
Cuba may be unimportant, for now, but Russia is not. It has repeatedly rejected President Obama's desire for a "reset" in relations, and has opted for historical revisionism and territorial expansion. Not only has Vladimir Putin an entire global propaganda network to attack, defame, and inspire hatred of the United States, he has Georgia, Crimea, much of eastern Ukraine, and a nuclear stockpile too.
The Baltic States are terrified of Putin's next move, as he orders Bear Bombers to fly near our shores and deploys troops to fight alongside the Syrian military. The power base from which he launches his ideological and paramilitary attacks on the West has not diminished. It has expanded.
Indeed, the size of territory held or claimed by anti-American forces has increased considerably since President Obama took office. Not only has Russia slowly digested a once-independent nation. China has also built a series of islands to assert its claims in the South China Sea, the Islamic State governs the western provinces of what was once Iraq, Libya has fallen to Islamic militias, and the Taliban have reclaimed the south of Afghanistan. Each enlargement of the anti-American sphere brings new recruits to the various hostile causes, strengthens our adversaries' convictions that they are on the winning side of history, fuels their desire to project power even further, heightens the risk of instability and terror.
There is no more inescapable force than the law of unintended consequences. The president, writes Gideon Rose, is "best understood as an ideological liberal with a conservative temperament—somebody who felt that after a period of reckless overexpansion and belligerent unilateralism, the country's long-term foreign policy goals could best be furthered by short-term retrenchment." However one understands Obama, whatever one thinks he has been doing, the results of his "short term" retrenchment have energized and amplified the global cause of anti-Americanism.
"Human beings," wrote James Burnham in 1941, "as individuals and in groups, try to achieve various goals—food, power, comfort, peace, privilege, security, freedom, and so on. They take steps that, as they see them, will aid in reaching the goal in question."
And yet, "experience teaches us not merely that the goals are often not reached but that the effect of the steps taken is frequently toward a very different result from the goal which was originally held in mind and which motivated the taking of the steps in the first place."
Experience has taught Obama nothing. The next administration won't be "building" on his foundation. It will be attempting to reclaim the ground that this anti-American White House has lost.