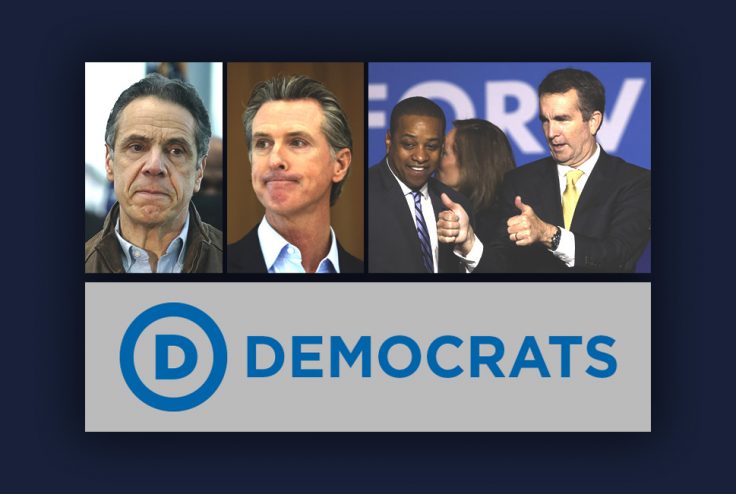 Democrats won the White House and a (tenuous) Senate majority thanks to runoff victories in Georgia. In both cases, it would probably be more accurate to say Donald Trump singlehandedly lost the White House and the GOP majority in the Senate. Beyond that, the Democratic Party's performance in 2020 was almost shockingly poor.
Another shockingly poor aspect of the Democratic Party's performance of late is leadership at the state level. The Democratic governors of the biggest, most reliably blue states are an especially sordid cast of characters. Nevertheless, they are an appropriate reflection of the party's character.
The following five white dudes have received more votes than almost any other Democratic politician over the past four years. They represent almost 90 million Americans and are significantly more consequential than their grandstanding colleagues in Congress. They are the Democratic Party in 2021, and they're doing a heckuva job.
California: Gavin Newsom
The governor is likely to face a recall after Newsom's opponents appeared to gather the more than 1.4 million signatures required to place the measure on the ballot. Proponents of the recall point to the governor's disastrous handling of the COVID-19 pandemic, which involved some of the most onerous lockdown restrictions in the country, and widespread dysfunction in the early stages of the vaccine rollout.
Earlier this week, Newsom attempted to identify with California parents enduring the "brutal" difficulties of virtual learning as many of the state's schools remain closed. Newsom told CNN's Jake Tapper he has been "living through Zoom school," even though his own children returned to in-person learning at their Sacramento private school nearly five months ago.
Newsom has repeatedly come under fire for flouting his own COVID-related guidelines. In November, the governor attended a maskless birthday bash for a longtime lobbyist friend at a posh Napa Valley restaurant. Around the same time, he blamed the state's rising caseload on residents "letting their guard down" by "taking their masks off" and gathering "outside of their household cohorts."
Last month, Newsom did not wear a mask while taking part in an indoor bill-singing ceremony at a Sacramento restaurant still banned from serving patrons indoors. He is, perhaps most notably, the ex-husband of Kimberly Guilfoyle, paramour of Donald Trump Jr.
New York: Andrew Cuomo
Where to start? Democrats love political dynasties. The Cuomo family has governed New York for 22 of the last 38 years. Andrew Cuomo would like to do what his father couldn't by winning a fourth term as governor, but first he'll have to stay in office long enough to stand for reelection in 2022.
Cuomo is under fire on multiple fronts. State officials are investigating his administration's deliberate undercounting of COVID-related nursing home deaths in the state, as well as its controversial policy directing nursing homes to admit COVID-positive patients into their care.
Cuomo, aka the "Luv Guv," is also being investigated for sexual harassment after multiple women accused him of inappropriate behavior. He hired Harvey Weinstein's lawyer to lead his legal defense. He has a longstanding reputation for fostering a toxic workplace environment and for bullying just about everyone who crosses his path. Senate Majority Leader Chuck Schumer (D., N.Y.) and Rep. Alexandria Ocasio-Cortez (D., N.Y.) are among those calling on Cuomo to resign.
All of this is taking place just months after mainstream journalists (and other Democrats) elevated Cuomo to celebrity status based on his PowerPoint presentations in the early days of the pandemic. He published a book on leadership, won an Emmy Award, and at one point was considered the frontrunner to secure the Democratic nomination for president in the event of a Biden brain malfunction.
Nevertheless, nearly two-thirds of New York Democrats continue to support him, according to a recent poll.
Illinois: J.B. Pritzker
Who better to lead the nation's third-largest reliably blue state than a multibillionaire scion of a Big Hotel? Before becoming governor in 2019, Pritzker (net worth: $3.5 billion) served as national co-chairman of Hillary Clinton's first failed presidential campaign in 2008 and led a special innovation council at the behest of Rahm Emanuel, the controversial former mayor of Chicago.
During his campaign for governor, Pritzker was excoriated for removing all the toilets from his second Chicago mansion to avoid hefty property taxes by having the residence declared "uninhabitable." Federal investigators are currently looking into whether his actions constituted tax fraud. He is at risk of becoming the seventh Illinois governor to be charged with a crime during or after his time in office.
Pritzker's Democratic colleague, Mike Madigan, recently ended his 36-year tenure as Illinois speaker of the house amid allegations he accepted bribes and favors from ComEd, the state's largest utility.
New Jersey: Phil Murphy
Murphy, a former Goldman Sachs executive who previously served as finance chair of the Democratic National Committee, has presided over the worst COVID-related death rate in the country. (Cuomo is a close second.) His controversial immigration policies—establishing New Jersey as a "sanctuary" state, providing college tuition and legal support to undocumented immigrants—sparked a recall effort that ultimately failed in 2020.
Murphy led the Goldman Sachs Asia office in the late 1990s, when the firm was raking in profits from a shoe manufacturer notorious for inhumane labor practices. He compared his role at the "elite" firm to that of a Marine serving in combat. Most damningly of all, Murphy has served on the board of the U.S. Soccer Foundation.
Virginia: Ralph Northam
It's been more than a year since Northam apologized for appearing in a medical school yearbook photo wearing either a blackface costume or a Ku Klux Klan robe—he did not specify which. During the first press conference after the photo surfaced, Northam also acknowledged darkening his face as part of a Michael Jackson costume at a dance competition. His poor wife had to stop him from showcasing his "moonwalk" in response to a reporter's question.
Nevertheless, he's still the governor. That is mostly due to the fact that the person who would have succeeded him, Lt. Gov. Justin Fairfax (D., Va.), has been credibly accused of sexual assault. Fairfax didn't lose his job, either. In fact, he's running for governor. It's no wonder Cuomo thinks he can simply run out the clock and avoid facing consequences for his actions.
The Democrats!