The Green Mountain State's ultra-liberal governor has pulled the plug on single-payer.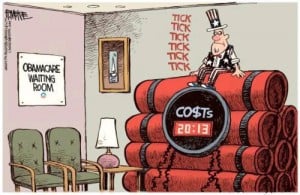 by John Fund    •    National Review
The one state that not only embraced Obamacarebut insisted on going beyond it to a full single-payer system was Vermont, the haven of hippies and expatriate New Yorkers, which has become one of the most liberal states in the nation. In 2011, it adopted a form of neighboring Canada's government-financed health care and promised to implement it by 2017. (And Jonathan Gruber was a key architect of this plan as well as of Obamacare.) This week, however, Governor Peter Shumlin, a Democrat, admitted the state couldn't afford the plan's $2 billion price tag and consequent sky-high taxes, and pulled the plug. The lessons for Obamacare are obvious and profound.
Scott Milne, the little-known Republican who opposed Shumlin in last month's election and came within 1 percentage point of winning the most votes, isn't surprised. "During the campaign I said that single-payer is dead — I'm telling you that now, and Peter Shumlin's going to wait until after the election," Milne told the Burlington Free Press. Milne is still running for governor, since Shumlin won only 46 percent of the vote, and Vermont requires the state legislature to elect the governor in January if no candidate wins the majority. Despite his prescience, however, Milne is highly unlikely to persuade the Democratic legislature to substitute him for Shumlin.
But Milne certainly has won a moral victory. Lieutenant Governor Phil Scott, a Republican, called the cancellation of singe-payer a victory for "overtaxed Vermonters." Noting that the state's fiscal plan for implementing single-payer was now almost two years late, he said in a statement: "We've already spent far too much money exploring this idea, and the discussion has paralyzed our business community."
Business realities weighed heavily in Shumlin's retreat. His experts calculated the state would need an 11.5 percent payroll tax and an additional income tax of up to 9.5 percent. That's California-style taxation. "My health-care costs would have gone up by 61 percent if that plan had gone through," Win Smith, the owner of the Sugarbush ski resort, told reporters. "If there were that 9 percent [income tax] on employees, many would have been paying more than they're paying now. It would have been a lose-lose." Shumlin admitted it would be irresponsible for him to be "pushing prematurely for single-payer" when "the risk of economic shock is too high at this time."
But like any good liberal, Shumlin insisted on painting a rosy fantasy that he would bring back a single-payer plan. "[Medicare] took 31 years to become law. Medicaid took 50 years to pass; Social Security took 25 years," he said in a statement. "Our time will come." James Haslam of the Vermont Workers' Center wasn't buying it, calling Governor Shumlin's retreat "a slap in the face" of single-payer backers.
Health-care experts from outside Vermont point out some of the implications. "It's a very liberal state, and its leaders spent years trying to design a system that would work," Grace-Marie Turner of the Galen Institute observes. "If Vermont can't make it work, single-payer can't work anywhere in the country where the economy has free and competitive markets. It's more evidence that centralized government health care is simply not workable in America."
Vermont's decision should embolden Republicans in Congress and state governments to fight harder against Obamacare. While President Obama insists he will tolerate no changes in his program that he doesn't unilaterally declare through personal whim, his stubbornness may be more difficult to sustain in coming months. The Supreme Court is set to hand down a ruling in June that could declare unconstitutional the subsidies for low-income people in 37 federally run insurance exchanges. The heart of Obamacare would be cut out should the Supreme Court rule that the exchanges are invalid.
Transition rules and discretionary budget accounts could delay the loss of insurance by policy-holders for a while in those states, but a more permanent fix will be needed.
Republicans in Congress would be right to insist that the price of their passing such a legislative fix should involve massive reforms in Obamacare. Republicans in the 24 state governments where they completely control lawmaking would be foolish not to demand complete freedom from Washington's rules dictating how they run their out-of-control Medicaid programs as the price for stabilizing the exchange markets in their states.
Nancy Pelosi famously said of Obamacare that "we have to pass the bill so that you can find out what is in it." The reality is that Obamacare had to pass before it became clear just how unworkable it is. Vermont's decision is a canary in the coal mine for liberal health-care-reform zealots. It represents a warning signal that in order to avoid further economic and health-care dislocations they will have to, like liberals in Vermont, give in to reality. The alternative is to face even more punishing political consequences in 2016 than they did this November.