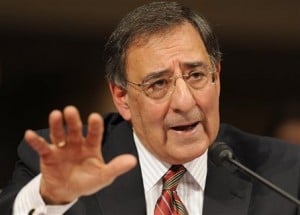 by George Landrith
Defense Secretary Leon Panetta testified on Capitol Hill this morning about the events of September 11, 2012 in which the American Consulate in Benghazi was attacked and burned to the ground and four Americans murdered, including the U.S. Ambassador to Libya. Panetta said that he had a pre-scheduled 30 minute meeting with President Obama at the White House at 5 p.m. that day. Panetta said that they spent 20 minutes talking about the American Embassy in Egypt that was surrounded by angry mobs and the unfolding attack in Benghazi. Interestingly, he said that Obama did not ask for any information about what military resources were in the region or for options of what might be done to protect the Americans in Benghazi.
From start to finish the attacks lasted more than seven hours. At the critical moment, President Obama never even asked what might be done to save the Americans. As surprising as that may be to some, there was another surprising admission. Secretary Panetta said he had no further communication with President Obama or anyone at the White House that night.
We already know that President Obama skipped more than 57% of his daily national security briefings while in office up to that point. Even the morning after the Benghazi attacks, he skipped his daily national security briefing to record an interview with 60 Minutes attacking Mitt Romney for being ill-suited to be Commander-in-Chief. That takes some chutzpah. Then Obama flew out to Nevada for a fundraiser and rally. That also takes chutzpah. But it isn't leadership.
– – – – – – – – – – – –
George Landrith is the president of Frontiers of Freedom, a public policy think tank devoted to promoting a strong national defense, free markets, individual liberty, and constitutionally limited government. Mr. Landrith is a graduate of the University of Virginia School of Law, where he was Business Editor of the Virginia Journal of Law and Politics. Mr. Landrith was a candidate for the U.S. House of Representatives from Virginia. You can follow George on Twitter @GLandrith.