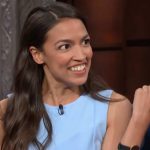 By Peter Roff • Newsweek
Have you heard the one about the entire GOP thinking that "women dancing are scandalous"? If you haven't then you're not following newly-elected Queens, N.Y. Representative Alexandria Ocasio-Cortez on Twitter.
It seems Ms. Ocasio-Cortez, who is rapidly becoming the public face, if not de-facto leader of the national Democratic Party, wasn't too pleased with a comment someone made about a video released through social media that she made while in college, showing her and several others dancing, 90's Hollywood style.
Now, to me and to the other people on the right with whom I discussed this, the video was no big deal. To others in the media, it was. The New York Times and the left-leaning Huffington Post both called it an attempted smear that backfired. To MSNBC, it was "Right Attempts to Discredit AOC." And to Newsweek it was "Conservatives Mock Alexandria Ocasio-Cortez for College Dancing Video, Everyone Else Thinks It's Adorable." Continue reading →
---