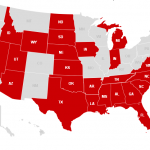 By Bill McMorris • Washington Free Beacon
The unions behind a failed challenge to Kentucky's right-to-work law are appealing a state judge's ruling on its constitutionality.
Teamsters Local 89 and the state chapter of the AFL-CIO, America's largest labor organization, filed an appeal Tuesday to the Kentucky Court of Appeals seeking to overturn Franklin Circuit Court judge Thomas Wingate's dismissal of a suit challenging right to work. Wingate tossed the suit on Jan. 23 after determining the unions failed to demonstrate that the law, which prohibits union fees as a condition of employment, illegally deprives the union of its private property.
"The KRTW Act does not violate the equal protections afforded by the Kentucky Constitution, nor is it special legislation that was enacted," the ruling says. "No genuine issue of Continue reading →
---