by Guy Taylor     •     The Washington Times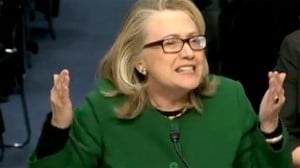 With U.S. intelligence officials scrambling to contain damage from potentially hundreds of spy agency secrets in Hillary Rodham Clinton's private emails, questions are mounting over why the Justice Department has not yet opened a criminal investigation against the Democratic presidential front-runner for mishandling a mountain of classified information.
While some secrecy experts believe Mrs. Clinton will be able to build a strong case that material on her server was not classified at the time it was moving through her emails, others assert that what the former secretary of state did was far more egregious than the mishandling of information that saw former CIA Director David H. Petraeus sentenced to two years probation and a $100,000 fine.
"I don't see how the Justice Department would be able to avoid at least investigating this," said Kevin Carroll, a former CIA officer and secrecy lawyer in Washington. "What Petraeus did was really small in comparison, because there was no exposure of any information to any foreign intelligence services."
Mr. Petraeus pleaded guilty to improperly handling hard-copy binders of classified military files and sharing them with his mistress and biographer.
"In contrast," said Mr. Carroll, "it's certain that foreign intelligence services had access to the stuff on Hillary Clinton's email."
"Information put on her home-cooked server and then sent around to other accounts is a very, very serious counterintelligence breach, and they're going to have to have a really substantial look at the damage that's been done to every agency that's had its intelligence compromised," he said.
But there's a catch. While officials combing tens of thousands of emails that moved through Mrs. Clinton's server have pointed to the presence of "hundreds" of pieces of classified information — apparently none of the messages had any official classification markings on them.
It's a situation that has triggered heated debate over the extent to which such information wasn't necessarily classified at the time Mrs. Clinton was emailing it.
"To the best of my understanding, there is no comparison between the Clinton email issue and the Petraeus case," says Steven Aftergood, who heads the Project on Government Secrecy at the Federation of American Scientists. "Everyone agrees that there was no information in the Clinton emails that was marked as classified. So it would be difficult or impossible to show that those who sent or received the emails knowingly or negligently mishandled classified information."
"A deeper issue," according to Mr. Aftergood, "is the subjective nature of classification itself."
"It is entirely possible for the State Department and the intelligence community to differ about the classification status of a particular item of information," he said. "If the State Department learned about the information through its own diplomats, it is entitled to consider the information unclassified. If the IC discovered it from a clandestine informant, IC officials would properly deem it classified. So, in a sense, both sides might be right."
While speculation surges about entire sections that have been redacted or "blacked out" from thousands of pages of emails that the State Department has released from Mrs. Clinton's private server, at least one email chain appears to contain what Mr. Aftergood described as "diplomatically sensitive" information.
The March 2011 chain, which the department released in June, reveals how Mrs. Clinton's team was strategizing behind the scenes to try to bring about a "Quad Deal" in which the U.S., Britain, France and Turkey would uphold a no-fly zone in the Middle East — and, more importantly, to make it appear as if Turkey was taking the lead on the initiative.
"I'm worried that [France] and/or the U.K. know about the Turks idea and want to derail it," states one of the emails, sent to Mrs. Clinton by her then-senior adviser, Jake Sullivan.
Without question, the email offers raw insight into top U.S. officials' private assessments toward American allies. It also shines a light on the secret diplomatic workings of U.S. policy toward Turkey, and sources have told The Washington Times that Turkish officials were outraged about it upon its release in June.