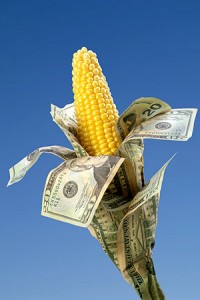 We find remarkable that the Senate approved Monday a so-called "farm bill" that calls for nearly $1 trillion in questionable spending and hardly a discouraging word has been heard on Capitol Hill.
Chalk that up to still-fresh outrage over revelations of the Obama administration's monitoring of Americans' phone records, Internet accounts and credit card transactions, and still-simmering concerns about Internal Revenue Service abuses and Justice Department abrogation of press freedom.
Anyway, the Agriculture Reform, Food and Jobs of Act of 2013 cleared the Senate floor by a comfortable 66-27 vote. The spending bill will cost the taxpayers $955 billion. That's 60 percent more than the previous farm bill, in 2008.
Most of the outlays in the bill actually have nothing to do with crops. In fact, 80 percent of spending goes to the Supplemental Nutrition Assistance Program, better known as food stamps.
The welfare program – the "Food" part of the Agriculture Reform, Food and Jobs Act – has grown 70 percent over five years, with a record 23.1 million households currently enrolled.
Bowing to concerns that food stamp spending is growing out of control, the bill proposes to save $4 billion over the next decade by restricting access to food stamps by college students and – wait for it – lottery winners. That's what passes for "reform" in the Democratic-controlled Senate.
At least food stamps are related, however indirectly, to agriculture. The same cannot be said of money for green energy and housing, which also found its way into the Senate bill. That, presumably, is the "Jobs" part of the Agriculture Reform, Food and Jobs Act.
As to the "Agriculture Reform" element, it can hardly be considered meaningful. Not when it will continue to throw billions of taxpayer dollars at farmers who grow such crops as corn, soybeans, wheat, cotton, rice and sugar.
Not when it expands the government's taxpayer-subsidized crop insurance program, which pays out not only for crops lost to bad weather, but also for lost farming income from falling commodity prices.
Bruce Babcock, an Iowa State University economics professor who helped invent revenue coverage two decades ago, told National Public Radio that federal crop insurance is "the Cadillac of insurance products."
He noted that, for every dollar of insurance premium, farmers pay, on average, 38 cents, while the taxpayers pay the other 62 cents. "Crop insurance is not an insurance program," Mr. Babcock criticized. "It's a social program. It's a regular farm commodity-support subsidy program."
If the program was targeted exclusively to family farmers – like the couple famously depicted in Grant Wood's painting "American Gothic" – it would still be problematic, but less odiously so.
But it also includes large corporate agribusinesses that hardly should be recipients of billions of dollars in taxpayer subsidies.
The House soon will consider its own farm bill. We hope its version is less a cropper like the measure the Senate approved.
.    .    .    .    .    .    .    .    .    .    .
This op-ed article was published in the Orange County Register.