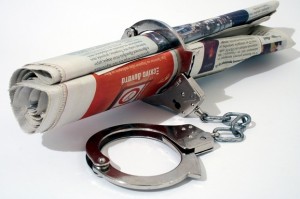 by Paul Bedard
In unprecedented criticism of the White House, 38 journalism groups have assailed the president's team for censoring media coverage, limiting access to top officials and overall "politically-driven suppression of the news."
In a letter to President Obama, the 38, led by the Society of Professional Journalists, said efforts by government officials to stifle or block coverage has grown for years and reached a high-point under his administration despite Obama's 2008 campaign promise to provide transparency.
Worse, they said: As access for reporters has been cut off, the administration has opened the door to lobbyists, special interests and "people with money."
And as a result, they wrote, Obama only has himself to blame for the current cynicism of his administration. "You need look no further than your own administration for a major source of that frustration – politically driven suppression of news and information about federal agencies. We call on you to take a stand to stop the spin and let the sunshine in," wrote David Cuillier, president of SPJ.
The administration has dismissed similar charges from other journalism groups, notably the White House Correspondents' Association, but the new letter sent Tuesday provided several examples of censorship and efforts to block reporter access. Among them:
• Officials blocking reporters' requests to talk to specific staff people.
• Excessive delays in answering interview requests that stretch past reporters' deadlines.
• Officials conveying information "on background" — refusing to give reporters what should be public information unless they agree not to say who is speaking.
• Federal agencies blackballing reporters who write critically of them.
"In many cases, this is clearly being done to control what information journalists — and the audience they serve — have access to. A survey found 40 percent of public affairs officers admitted they blocked certain reporters because they did not like what they wrote," added the letter.
In addition to asking for openness, the groups demanded Obama create an ombudsman position to help clear away barriers to news coverage.
"It has not always been this way," concluded the letter. "In prior years, reporters walked the halls of agencies and called staff people at will. Only in the past two administrations have media access controls been tightened at most agencies. Under this administration, even non-defense agencies have asserted in writing their power to prohibit contact with journalists without surveillance. Meanwhile, agency personnel are free speak to others — lobbyists, special-interest representatives, people with money — without these controls and without public oversight."
SPJ's Cuillier told Secrets, "I feel this excessive message management and information control are caused by the professionalization of PR in the bureaucracy — in all levels of government."
And, he added, "It is up to journalists — and citizens — to push back against this force. Hard!"
.     .     .     .     .     .     .     .     .     .     .     .     .     .     .     .
Paul Bedard is the Washington Examiner's "Washington Secrets" columnist.